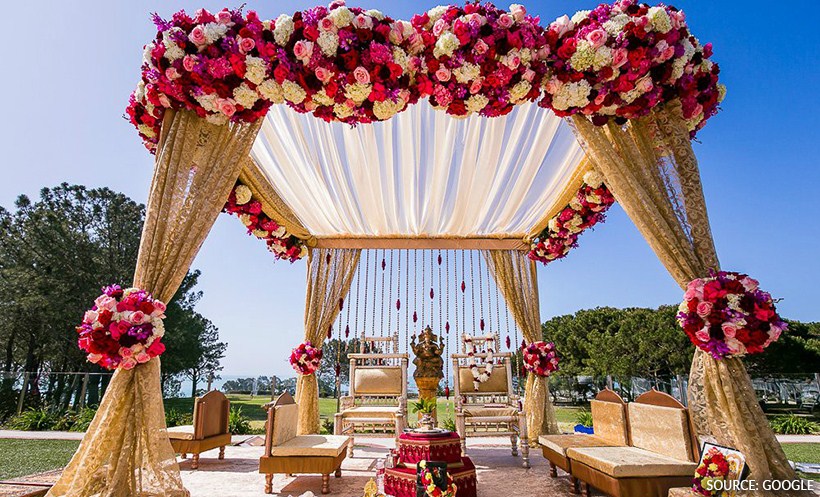 Weddings are such an important affair in anyone's life. From meal to dress to guest list, we want everything to be pitch-perfect. Also, decoration is one of the tedious jobs to look after. One can get over the outfits they want to wear, but till the last date, decoration is the crucial thing to work over.
Fresh flowers, canopy, lighting, stage background, food set-up, family dinner set-up, everything sounds so complicated. Whether the aisle should have flowers or not, which flowers and how they should be placed, the sitting table should have a hanging bouquet or not, the theme should have which colour flowers. Not just reception or marriage day but haldi, mehndi, sangeet functions too have different flower decorations in India.
If you are in India for the wedding, then you must want to conduct your wedding with all traditional rituals that include many different functions that need various flower decorations. Do not stress out because we are here to suggest to you the best flower decorations you would like to use in your wedding decoration. Scroll down to see 'genda phool', heart-shaped rose and many more such ideas…
Wedding Rose Mandap Decoration
The couple would take beautiful vows to stay together forever, so that place should also be beautifully decorated, no? Not just with curtains, but your mandap should have different colours of roses that makes it mesmerising and alluring. Roses come in different colours like white, light pink, red, that goes with your wedding outfit. Your mandap should always have those colours that the outfit looks like so that the theme can match.
Marigold Haldi Decoration
As your wedding date is near, you are more worried about the decoration, especially haldi when almost all guests arrive and you have no time to look after what special you can do. As haldi is yellow-orange in colour, so would be your outfit, then why not your decoration depicts the same. Marigold, the most common flower used in the wedding, but it gives an appealing look equally. Make its hangings, decorate the place your Haldi is going to take place with a marigold chandelier and Phulo ka Jhula.
Flamboyant Wedding Reception
As wedding reception is most likely to occur at night, bright, light coloured flowers would look amazing. The lanterns decorated with flowers, heart-shaped roses at the back of the stage, whereas lilies and pampas grass on the entrance and the dinner tables with a white bunch of flowers in the middle look so appealing. This soothing white decoration would be appreciated by most people coming to attend your wedding.
Rose and Mogra Mehndi Decoration
The mehndi function takes a little more time than expected because from bride to bride's far relatives too would be indulged in Mehandi. It's okay to keep the environment of the mehndi time fresh and soothing. Rose and mogra hanging decorations would be loved by all. As it takes more time, the fragrance of mogra and rose keeps every head calm, and photos also look terrific. So, your mehndi function is kind of sorted with beautiful flowers, and Jhula can be used in this function also.
Phoolon Ki Chadar
While you take care of all the decorations to be done perfectly, you often miss the canopy under which the bride would walk down the aisle to her groom. One of the essential things during the wedding day is this Phoolon ki Chadar, and it looks brilliant when decorated with different flowers covering the whole canopy. The bride walking down feels amazing, and it also gives her good pictures allowing everyone to have a glimpse of the bride.
Floral Pool Decor
If you are planning to have a pool party, then decorate the pool with flowers as well as floral letters covering the four sides of the pool. The floral notes can give out a message where anyone can take pictures and so in the pool among the flower floaters. A floral plate swinging in the pool taking the starters from one side to another can be another good option to consider while you think of a pool party. If you have decided to go for a rose theme, then okay, else marigold, hibiscus, sunflower, orchids can be an excellent jaw-dropping element you can use in a pool party.
Flowers are the best friend of the wedding, so why not use them in the best way possible, making your wedding look lavish and impressive. Just select your theme and use these ideas to get the best as needed. We hope these wedding ideas help you to make your wedding a memorable affair.